18
Aug
Excerpt from The Decision to Die, The Decision to Kill by Will Falk, Deep Green Resistance Southwest Coalition:
Our own violence was long ago determined for us. The decision to die and the decision to kill are made through our complicity in this genocidal and ecocidal system daily. To think that we can somehow keep our hands clean ignores that they have been soaking in blood for centuries. There's not one square inch of soil on this continent that has not been affected by the perpetual shedding of indigenous blood by the dominant culture. The comforts of civilization come to us greased in the human tallow of oppressed workers around the world, come to us over mangled corpses in Iraq, Afghanistan, and Palestine, come to us through the psychic theft perpetrated by a world view trying to tell us that all of this is how it should be.
We are animals. Just like the relationship between the wolf and the moose, we must kill to survive and we must die so that others may live. We can choose to kill as the wolf does – carefully selecting a sick or weak moose to sustain the pack – or we can kill indiscriminately dropping napalm, bouncing betties, and carpet bombs. We can recognize that we are already killers, or we can hide in our comforts and deny the violent reality surrounding us.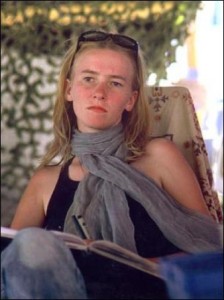 There are those who for a number of valid reasons are not willing to engage in direct actions like sabotage or tree spiking because they might be deemed violent. I would encourage those who reject violence in all forms to consider whether they are willing to accept life-threatening violence on their own bodies. If you cannot do violence, are you willing to take violence? Can you place your body between the bombs and the bombs' targets?
We have seen what will happen to even non-violent resistors who effectively impede business as usual. Martin Luther King Jr. was shot. Rachel Corrie was smashed to death under an Israeli bulldozer in 2003 when she acted to stop the destruction of a Palestinian home in Gaza. Ken Saro-Wiwa, a poet no less, was hung by the Nigerian government. These non-violent resistors all demand that we ask: Can you make the decision to die?
There are others who believe that we need to stop the dominant culture from destroying everything and are willing to consider a variety of tactics. I cannot take the place of your heart in your own journey towards understanding your limits. I can, however, tell you that as someone who has made the decision to die and the decision to kill before, I do not believe it makes you evil, wrong, or even any different from the rest of us.
We are all engaged in violence. Some are willing to take it, but will not engage in violence. Some are willing to give violence. It is time we decide our capacity for violence. Time is short. How we channel this violence will determine our very survival.
Read more here.